By admin on January 13, 2018 | Category: Front Page,Front Page Slideshow,News | No Comments
In December 2017, Mustang Recording Studios were flooded due to a burst pipe on the ground floor.
We are in the process of making Lemonade out of some pretty sour lemons. While insurance helps with some of the costs, we are in the process of upgrading the studio in some important ways.
Two key things are new wood floors and better professional wiring/routing. These were not on the immediate TO-DO-LIST. However, this unfortunate situation kind of created the situation that makes NOW the time to do these things.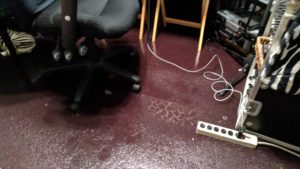 To learn more, check out our Kickstarter Project.