In December 2017, Mustang Recording Studios were flooded due to a burst pipe on the ground floor.
We have been enjoying and using this studio for many years. It's been super functional, but never has really been dedicated to recording or multi-track production. Regardless of the function from day to day, we were pretty devastated to find such damage to a key part of our lives and business.
However, we are hoping to make Lemonade out of some pretty sour lemons. While insurance helps with some of the costs, we are in the process of trying to upgrade the studio in some important ways.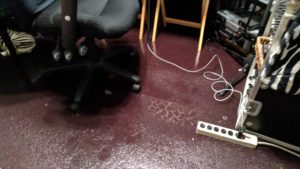 Two key things are new wood floors and better professional wiring/routing. These were not on the immediate TO-DO-LIST. However, this unfortunate situation kind of created the situation that makes NOW the time to do these things.